I'm excited about a pilot I'm working on right now, partly because it's a unique concept set in an interesting world, but partly because I had an idea for a really badass Twist Ending to End All Twist Endings. It's a stunning visual, a huge surprise, and the kind of thing that if I was watching it on TV, I would sit up in my seat and be like "WHAAAAAT" and immediately text everyone I know.
But after some reflection, I've decided to change it.
A common theme across most pilots, whether it's an hour-long family drama like This is Us or a half-hour sitcom like How I Met Your Mother, is that it ends with what I very scientifically refer to as a "'whaaaaaaat' moment."
You might call it a twist, a reveal, a reversal – it's something that happens at the end of the episode that you were not only not expecting but that completely changes how you see the show, and that ideally makes you excited for the next episode. It's hard for me to think of a single modern pilot that doesn't end this way.

How Do Pilot Twist Endings Work
These kinds of endings usually involve one of the following on the last page of the script (or close to it):
the introduction of a new main character
the death of someone we thought was going to be a main character
a surprising reveal that the relationship between two characters is not what we thought it was (they're not really married, they're actually related, they haven't actually met each other, etc.)
the entire situation we thought the characters were in is not the situation they're really in (it's actually a computer simulation, it was actually a dream, we're not actually on Earth, we're actually in the past, etc.)
a main character is not who we thought she was on a fundamental level (she's actually a villain, he's actually a superhero, she's actually a ghost, etc.)
something we accepted on faith is not actually true (the murder victim isn't really dead, the faithful husband isn't really faithful, the successful business isn't really successful, etc.)
the predicament the main characters are in is actually much worse than we thought (not only are they trapped back in time but there's also a supervillain after them, not only is the detective on the trail of a serial killer but the serial killer is also on the trail of her, etc.)
These kinds of twists, as a concept, are a great idea. They can make your pilot memorable, they give people something to talk about after reading, and they can make us anxious for the next episode. They're especially helpful if your pilot on the whole isn't very good, because at least the twist will trigger our natural human curiosity.
Why Pilot Twist Endings Often Don't Work
But there are three huge downsides to them if handled poorly, and almost every unproduced pilot I have ever read has made at least one of these mistakes (and I've made them myself):
It's all about the twist.


When we fall in love with our own twist ending, we're tempted to make it the focal point of the pilot. Instead of telling a great story in a fascinating world with characters the audience cares about, we kill time for 25-60 pages until we can get to the "good part" which is the big abracadabra ending.

The obvious problem is that no one will actually make it to the "good part" unless they're being paid to finish reading it (or are a very loyal friend).

The twist invalidates what the reader understood – or worse, liked – about the show.


We just spent 60 pages getting the reader invested in a hero only to, on the last page, kill off the only character they empathized with.

We just spent 25 pages introducing the reader to a world they loved, only to reveal on the last page that the rest of the series will be taking place in a completely different setting.

At best, this kind of twist is confusing because the reader isn't sure what to expect from the rest of the series (since it will obviously be nothing like the pilot). At worst, it takes away or invalidates the only thing the reader actually liked about the script.

No one is going to be surprised.


If your entire pilot's success rests on the surprise twist of the ending then we really better not see it coming. Unfortunately, readers and viewers are savvy these days and have learned to expect a twist, so we're likely to see it coming from three acts off.

Worse, if by some miracle your pilot was actually produced, what would the marketing campaign look like? Won't it need to spoil the twist to sell the concept of the series? It's bad enough to spend a whole episode stalling for the big twist reveal – it's even worse if it's a reveal everyone knew was coming.
Some Examples
In the real pilot episode of Buffy the Vampire Slayer, it's Buffy's first day at a new high school. Before the episode began, she was expelled from her previous high school for burning down the building. She already knows she's a vampire slayer.
During the course of the pilot, Buffy learns how things work at her new school, she meets the main characters that will populate season 1, she comes around to accept her role as slayer (which she rejected at the beginning), she deals with ordinary high school things, and she slays vampires with the help of her new friends.
Though this is a "premise pilot" (in that it sets up a new situation that did not exist before the show started), it is  representative of a typical episode of the first season. These are the characters we'll be spending time with, these are the kinds of things they'll be doing, and this is where they'll mostly be doing them.
But what if the pilot had taken place at Buffy's old high school when she first found out she was the slayer? What if that was the surprise ending? That's arguably a more interesting "bang" for a pilot – an ordinary teen finds out she's a vampire slayer, burns down her high school, and is forced to move to a new town. The obvious problem is that we'd spend the whole episode with characters and a location that are not representative of the real show (plus, what would the show be called? Buffy, the Totally Normal Teen, We Swear?).
If you haven't seen the first episode of this season of Black Mirror, I won't spoil it for you, but there's a twist in the episode that felt so much like a typical Black Mirror twist ending that I thought it was the end of the episode. It turned out to be the end of Act 1.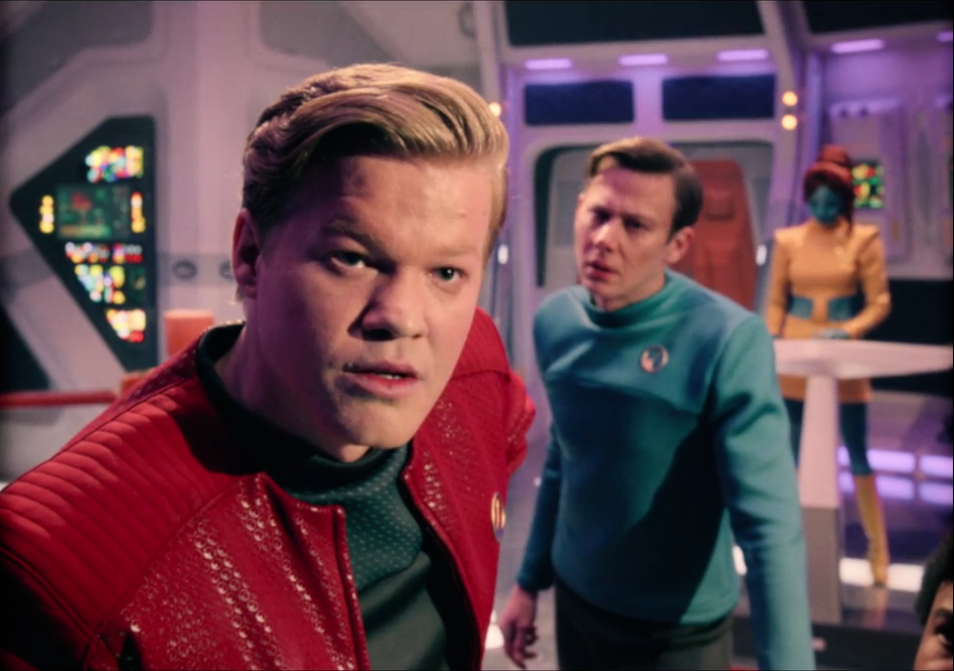 Alec Bojalad nails it in his review of the episode when he says:
"The best part of 'USS Callister'… is that it takes what would have been the ending to a weaker episode of Black Mirror and turns it into the beginning. Black Mirror, great as it is, sometimes falls into a science fiction trapping that has felled many other fine sci-fi stories. It treats the ending as the ultimate 'ta-da!' This can, of course, be a thrilling experience still but the best science fiction stories treat the 'ta-da!' as the beginning."
How to Fix Your Twist
Does your pilot have one of these problems? Luckily, there are three things you can do to fix it.
Make the rest of the pilot more interesting.


Easier said than done, I know, but if your pilot is just spinning its wheels until the big reveal at the end of Act 5, go back and figure out how to use those five acts to tell a real story.

Give your characters goals and values and stakes and obstacles. Put those characters into conflict. Have a clear plot arc with complications and at least a partial resolution.

Now you've earned your twist ending, if you even still want it.

Make the twist underline what came before it, not strikethrough it.


The best twists are shocking while simultaneously emphasizing, confirming, or deepening the premise or theme put forth by the preceding 25-60 pages, rather than invalidating them. This is a tricky line to walk, but if you know what you're trying to say with your story, you'll know if your twist upends it or cements it.

Move the twist earlier.


Take the big twist you planned for the end of the pilot and make it the end of Act 1. Or even the end of the teaser! Instead of making the pilot about the twist, make the pilot about the story that happens after the twist. This will make for a more interesting pilot and will make for a pilot that feels more like a typical episode of your show.

Now you can come up with a second surprise for your pilot's ending – but one the audience truly doesn't expect and that doesn't invalidate the story you just spent five acts telling.
For my own pilot, I decided to make my abracadabra twist ending the end of Act 1 instead, and then spend the next four acts telling an interesting story that's more representative of a typical episode of the show.
But don't worry – I came up with another twist for the end.